Montana Fly Fishing trips on the Bitterroot River, West Fork Bitterroot River, East Fork Bitterroot River, Blackfoot River, Clark Fork River, Missouri River, Madison River, Small Streams, and Lakes.
Montana Fly Fishing
Montana fly fishing for trout on the finest Montana fly fishing water the country has to offer. At Montana Hunting and Fishing Adventures we provide a personalized trout fishing guide service that Caters to your individual needs, whether you are seasoned fly fishing expert, or a first time fly fisher. Our guides are professionals and experienced on the water we float and wade they will assure you have a safe, productive and enjoyable time. Our love of fly fishing has given us the desire to share the wonderful sport of fly fishing for trout with our guests. Because we feel we should do our part for the quality of the trout fishery, catch and release is our policy.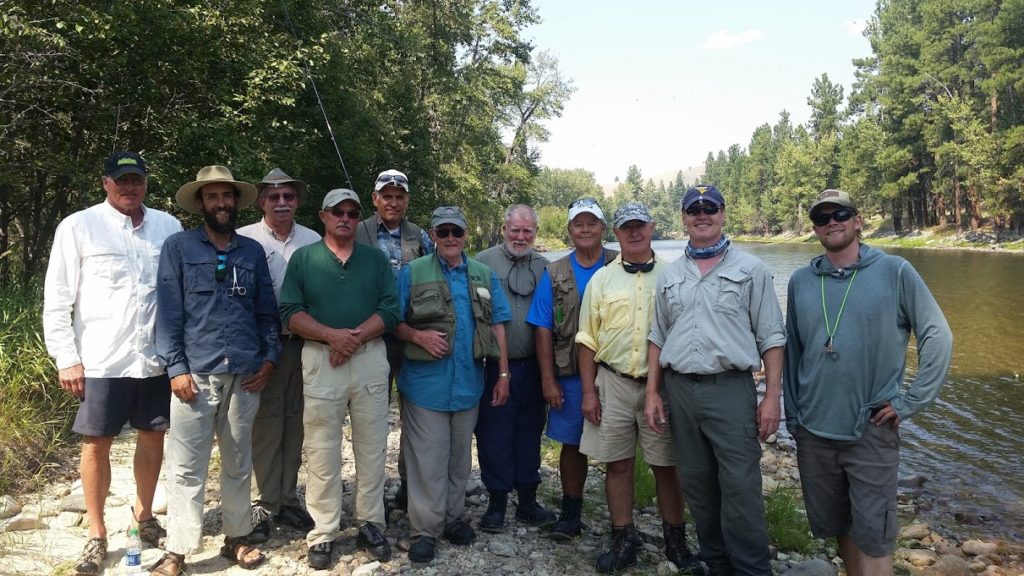 Fly Fishing Vacation Package
Join us on an unforgettable fly fishing adventure. Fish Montana's most legendary Rivers, Streams and Lakes with one of our local guides. Our guides are the best Montana has and are highly experienced on the water we offer. They will make your time with us one you will not forget.
Our Trips are custom tailored to the needs of our guests, from single day trips to multiple days and waters. These trips are first class at reasonable rates. We feel that everyone should be able to enjoy the spectacular fishing Montana has to offer. So we are keeping our prices low as our gift to you. Contact us to help you plan the trip you have been waiting for.
Let us take the worries out of your trip we can set your lodging up for you. From overnight camping to private cabins we can make it happen for you. Or there is a list of local motels, bed and breakfasts and RV parks on our lodging page.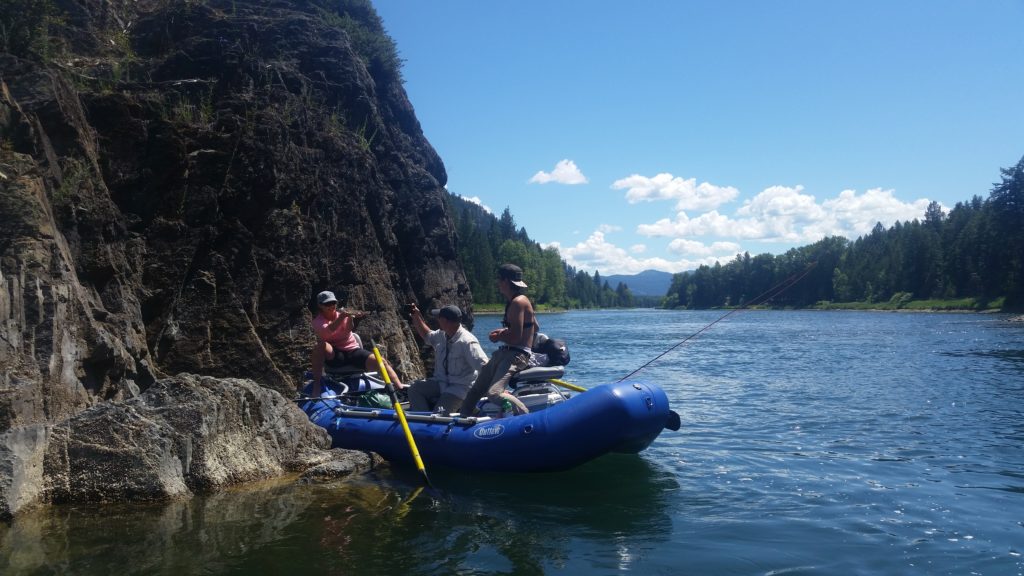 Float Fishing
Our float fishing is done mostly on the rivers and lakes however there are few a streams big enough to float . Most of our guides use expedition grade rafts with fishing frames set up for two anglers and your guide. These are quieter, lighter and handle the lower water later in the season easier than a drift boat. We generally float from six to fourteen miles in a day depending on the water levels and how much time guests want to spend on the water. This is a great way to access places you can not walk to.
Float fishing is super for fly fishing, you can cover a lot of water in one day. When you fish out one hole you move on to the next and don't have to worry so much about the brush behind you. We can put together day fishing trips and vacation packages that cater to your individual needs. Montana fly fishing float trips are a Montana experience you will never forget. Let us help you make a memory that will last a lifetime.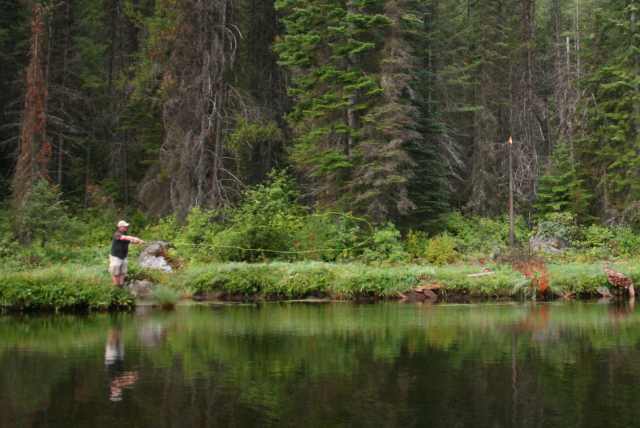 Wade Fishing
We offer walk and wade trips to some of the best fishing in Montana. We teach a lot of people how to fly fish. A Walk and Wade trip is a great way to get one on one personalized attention. Your guide won't be rowing so his full attention will be on teaching you to fly fish for trout. Whether it's for a half day or a couple of days, beginning and novice fly fishers can quickly learn what it would take them years to learn on their own. Our guides are patient instructors who teach the fundamentals of fly casting, knot tying, fly selection, line control, reading water and safe wading...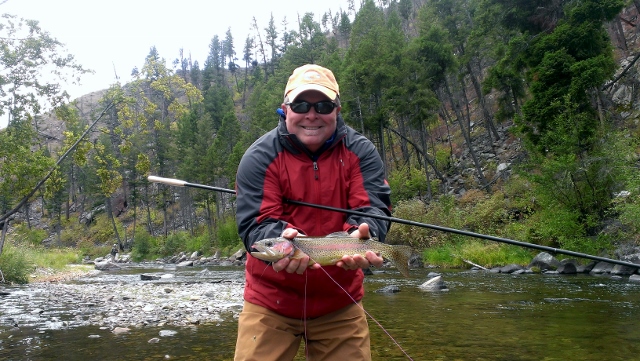 Tenkara Fishing
Tenkara is the traditional Japanese method of fly fishing, which uses only a rod (no reel), line and fly. Very simple and extremely effective. Tenkara fly fishing is particularly well suited for mountain stream fly fishing and is a great way to get introduced to fly fishing. If you'd like to learn about fly fishing in its absolute purest form that focuses on reading water and finding fish while catching Montana trout on a small stream or river then come Tenkara fly fishing with us.
from 
West Virginia, United States
Outstanding Guide/Outfitter
Posted 
September 17, 2016
Jim Mitchell of Montana Hunting and Fishing Adventures provides an impeccable experience in his area of Montana. Jim provides a level of service and experience that represents the "gold standard" which exceeds all expectations.
from 
Marietta, Ohio, United States
Posted 
September 11, 2016
I have been Fly Fishing in Montana every year for over 20 years, and can honestly say Jim Mitchell (MONTANA HUNTING & FISHING ADVENTURES) has been our guide for many of those years. Just return today from another 6-day float trip with him and had a great week. Jim and his team are the best.
from 
West Virginia, United States
Posted 
September 11, 2016
Have been fishing with Jim on our annual trip for several years now. He is a consummate host and professional. He and his guides go above and beyond not just to ensure a productive fishing day but also to provide a great overall experience. It is particularly convenient that he arranges lodging as well. This can be particularly challenging for a large group such as ours (10 fishermen) but he pulls it off every year without a hitch. I would highly recommend him for your next trip to this region of Montana.
from 
Pleasanton, CA, United States
Just spent 4 days with on the Blackfoot and Bitterroot rivers with Jim, Chris, and Jason and had a blast. They consistently put us on good fish and kept a positive relaxed vibe through every snag, birds nest and missed set. Will definitely be coming back.
from 
Lafayette, CA, United States
This was my first drift boat fly fishing trip to Montana ..... Jim and his crew were excellent .... fished the Blackfoot and the Bitterroot .... 4 days of amazing fishing .... lots and lots of fish ... great information about technique, fly selection etc.... riverside lunches were fantastic and the cabins along the lake with sunset bass fishing was an added bonus .... definitely returning next year