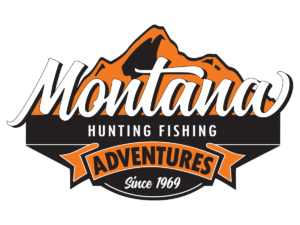 Angler packing list is a recommended checklist of what to bring on an extended fly fishing adventure.
Angler packing list for Montana fly fishing trips
Suggested angler pre-travel packing checklist for Trout Fly Fishing in Montana.
Flies will vary with your destination month of the year: The guides at Montana Hunting and Fishing Adventures furnish flies and are liberal with the newest hottest patterns, but in order to retain a measure of independence, you may want to have a fly selection of your own. This is what we recommend feel free to bring what you feel is necessary. Pack for Montana weather it can vary drastically throughout the day.
Clothing (for 2-3 day trip) staying at a motel
Avoid cotton fabric except in blends. 100% cotton fabrics are hard to dry in the field. Synthetic clothing is much more comfortable.
[ ] Rain gear- nylon or rubber coat/pants
[ ]  Lightweight fleece underwear pants
[ ] Long sleeve, fleece underwear shirts
[ ]  Wool/synthetic blend socks for each day
[ ] 2 long sleeve shirts
[ ] 1pr. Street Shoes
[ ] 1pr. Going to the river Shoes
[ ] 1 Fleece Jacket
[ ] 1 Hat (Might bring a spare)
[ ] 1 Waders
[ ] 1 Wading shoes
[ ] 1 Wading belt
Toilet Items
[ ] comb
[ ] soap
[ ] tooth brush
[ ] toothpaste
[ ] shampoo
[ ] conditioner
[ ] nail clipper
[ ] nail file
[ ] razor
[ ] shaving cream
[ ] deodorant
Sun Glasses
[ ] 2pr. Sun Glasses (in case you loose one pair)
[ ] Glasses Cleaning Fluid and Wipe Cloth
Survival Items
[ ] Prescription medications
[ ] Prescription glasses / contact lens
[ ] Alarm Clock
[ ] 35 SPF Sun Block
[ ] Insect Repellent
[ ] Lip balm
[ ] Flash Light
[ ] Sewing Kit
Entertainment Items
[ ] Film Camera
[ ] Film
[ ] Digital Camera
[ ] Memory Cards
[ ] Video Camera
[ ] Tape
[ ] Charger/Cables
[ ] Batteries
[ ] Binoculars
[ ] Magazines/Books
[ ] Munchies
Tackle
your selection of gear will depend on whether you are fishing rivers streams or lakes.
The following rod/reel combinations are offered as a checklist:
[ ] 3 Weight Outfit- streams
[ ] 4 Weight Outfit- streams & rivers
[ ] 5 Weight Outfit- rivers & lakes
[ ] 6 Weight Outfit- rivers & lakes
[ ] Rods, Reels and extra spools
Leader & Tippet
[ ] 3 9' 3X. Knotless tapered leaders
[ ] 3 9' 4X knotless tapered leaders
Fishing Accessories
[ ] Hook File
[ ] Leader Clipper
[ ] Nail Knot Tier
Reel / Line Maintenance Kit
[ ] Fly Line Cleaner & Pads
[ ] Spray Lube
[ ] Reel Oil
For overnight camping add
[ ]1 Sleeping Bag
[ ]1 Pillow
James Mitchell
MT Outfitter # 9961
(406)360-7238
870 Sleeping Child Road Hamilton, MT 59840
[email protected]