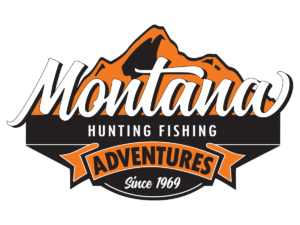 Hunter packing list is a recommended checklist of what to bring on your Montana hunting trip.
Hunter packing list for Montana hunting trip
This is what we recommend feel free to bring what you feel is necessary.
Pack for Montana weather it can vary drastically throughout the day.
Wool provides warmth and is quite.
Good physical conditioning will aid in your comfort and success.
What To Bring
Clothing
The weather during hunting season can be anything from 70's and sunny to 10 degrees below zero with several feet of snow. The use of items that you bring will depend on the weather. Plan on weather from -10 to 70 degrees. When you have moisture collecting on your body, you'll want something to wicks it off. The warmth and quietness of wool are hard to beat, but there are a lot of other synthetics on the market that work well too. Bring two pair of gloves, warm hat a heavy coat and warm socks (smart wools).
Boots
We recommend bringing 3 pairs of footwear: A pair you can slip on use around camp; the second should be comparable to Gortex, leather, uninsulated or up to 200 gram 8" high waterproof boot, you'll probably use this the most on the earlier hunts. The third pair should be a 600-800 Thinsulate leather sided rubber bottom pack boot, this is for very cold temperatures that you might encounter more common in later hunts. Our weather is unpredictable and temperatures can change without notice.
Optics
Binoculars that are 8-10-12 power works well for the country we hunt. Range finders are an important to accurate shooting, especially since you'll be shooting an animal that is twice the size of a whitetail. Every time you are in a new environment, your judgment of distance will need to be fine tuned. There's no better way than with a rangefinder
Bows, Broadheads
We recommend hunters use compound bows that shoot up to 300fps. Draw weights need to be between 60 to 80#. Expandable broadheads do not get the penetration needed for elk. We recommend fixed 3 blades 100 -125 chisel tips. Ideally, we want a complete pass through. Two holes in an elk mean more blood flowing. Multi-pin sights are most common now and have replaced the adjustable single pin sights. Most common pins are 20, 30, 40, and 50 yards.
RIFLE
Zero in your rifle at 200 yards, Your goal should be to shoot a 3" group at 100 yards consistently. Our average shots are 200 yards. There is also a possibility of shooting a 10-20 yd shot in the trees if we can bugle them in. Know your bullet drop at 200, 300, 400 yards. There are trees, logs or rocks in many locations to get a good rest on. Some of the most common elk rifles are: .300, .7mm, .270, .280, & .30-06. We recommend a .300 caliber or larger and a .7mm and .270 are also very adequate. Remember, if you are flying, the airlines require a locking case and bullets need to be stored separately.
Please check with your travel agent or airline for particulars on traveling with weapons.
Calls
Try to bring a simple cow call. It is the most important call to have. The shooter typically needs to stop the animal. Your guide will use a bugle to locate the Bulls
Suggested hunter packing checklist for Montana hunting trip
[ ] Range Finder
[ ] Hunting Knife
[ ] Water bottle
[ ] Camera & extra batteries
[ ] 2 Lt weight shirts & 2 flannel/wool shirts
[ ] Long Johns
[ ] Wool pants
[ ] Warm socks such as wool
[ ] Underwear
[ ] Comfortable shoes for camp/lodge
[ ] 2 pair boots with good tread (insulated, waterproof & light hiking)
[ ] Hats - 1 warm stocking & 1 baseball cap
[ ] Gloves - 2 pair (wool is good choice)
[ ] Wool or cotton warm outer coat
[ ] Rain gear- coat/pants (not plastic- as quiet as possible)
[ ] Toiletry items
[ ] Sun glasses
[ ] Sun screen
[ ] Prescription glasses / contact lens
[ ] Prescription medications
[ ] Lip balm
[ ] Alarm Clock
[ ] Sleep wear
[ ] Warm sleeping bag Rated for 0 at least
[ ] Day pack
[ ] Game bags, We recommend Caribou Gear Big Game Packs size Large ask me to explain!!!!!!!!
RIFLE HUNTS:
[ ] Rifle with sling/scope covers
[ ] Ammunition (at least one full box)
[ ] 400 square inches fluorescent orange
ARCHERY HUNTS:
[ ] Camouflage clothing
[ ] Camouflage paint
[ ] Hard case for bow/and extra arrows
[ ] Extra bow string
[ ] Compound bow stringer
[ ] Pliers/tools for bow
[ ] Extra peep sight
[ ] Broadheads 12-18 arrows/hunter (ONLY Broadheads & shafts suitable for elk)
James Mitchell
MT Outfitter # 9961
(406)360-7238
870 Sleeping Child Road Hamilton, MT 59840
[email protected]